St. Edwards State Park
August 1, 2006, Kirkland, WA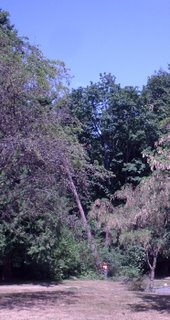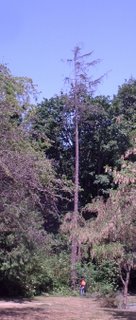 Today is August 1st and the official beginning of the WTA Hike-a-thon. Since I was home from work, I had to get out and get in a few miles today. I went to St. Edwards State Park in Kirkland, WA. The land on which Saint Edward State Park sits was once owned by the Roman Catholic Archdiocese of Seattle and was used as a seminary until 1977. When the seminary closed, the land was sold to the State of Washington and the park was created. There are several miles of trails for hiking and mountain biking and at least one mile of trail along the Lake Washington Shoreline. The park was pretty busy today with lots of families with children around the playground and a youth group having a cookout at the picnic area. There was even trail maintenance going on along the drive and I got to see them cut down a dead tree! I hiked a figure eight loop for a total of 3 1/2 miles today.
Des Moines Creek Park
August 2, 2006, SeaTac, WA
I didn't rack up much mileage today, but I had a wonderful time hiking a couple of miles. As many of you know, I am an avid letterboxer. I have been letterboxing for 5 years and that is how I met my boyfriend, Ryan. Letterboxing is an intriguing hobby combining artistic ability with delightful "treasure-hunts" in beautiful, scenic places. Participants seek out hidden letterboxes by following clues (that are available online), and then record their discovery in their personal journal with the help of a rubber stamp that's part of the letterbox. In addition, letterboxers have their own personal "signature" stamps that they use to stamp into the letterbox's logbook.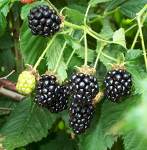 Today, two letterboxers from New Mexico were arriving into SeaTac Airport and were interested in meeting us to exchange signature stamps. I suggested that we meet at Des Moines Creek Park to hike the trail there and hunt for letterboxes. We met around noon and had a lovely time hiking the trail. It is a wonderful flat, paved biking and hiking path near SeaTac Airport. The airplanes were taking off over the park today and we got some close-up views of the bellies of several 737's, DC-9's and a couple of 747's! Also the blackberries were out in force. They were everywhere and ripe for picking.
After an appetizer of blackberries, we went to the Red Robin at Southcenter Mall for lunch. We had a delightful visit with Lion's Mane and his friend from New Mexico! I got in 2 miles today for a total of 5 1/2 miles overall for the hike-a-thon.
A Tale of Two Mountains
August 9, 2006, Issaquah and Enumclaw, WA
Well, they aren't really huge mountains, but I hiked both of them this week: Little Mount Si and Mount Peak. Little Mount Si is the little brother of Mount Si. Mount Si is an 8 mile hike straight up, Little Mount Si is a 5 mile hike that meanders through the forest and goes up to a nice little bald (elevation 1576) with views of I-90. Real hikers snub their noses at Little Mount Si, but it is just right for my hiking abilities.

Mount Si and Little Mount Si were formed millions of years ago by an upthrust along a fault line. The Mountains got their name from an early settler named Josiah (Uncle Si) Merritt. He lived at the western base of the mountains near the site of present day North Bend, WA. Supposedly Mount Si was never logged, but in 1910 a fire engulfed the whole mountain. The growth on the mountain today is a result of that burn in the early 1900's.
When I got to the parking lot at Little Mount Si yesterday morning, it was already full. There were only 2 spots left and I took one of them. There were two vans, which should have warned me that the trail would be crowded with kids! I have never seen the trail so busy and especially on a week day! But it was a gorgeous sunny day in Seattle with highs in the 70's and everyone was taking advantage of the weather.
Today, the weather was still cool, but cloudy. I drove down to Enumclaw to tackle Mount Peak. I have always known this little mountain as Mount Peak, but it has a bunch of different names. Mount Pete and Pinnacle Peak are two of them. It is also the site of the Cal Magnusson Trail. Supposedly the mountain was called Mount Pete, for a Yugoslav named Pete Chorak who emigrated to Enumclaw, WA in 1911 and donated the land for the park. The trail to the top was named for Cal Magnusson, a local Boeing Employee, who had hiked and maintained the trail for the past several decades. I don't know why it is called Mount Peak or Pinnacle Peak!

Mount Peak is a volcanic knob that was encased by the later deposits of the Osceola Mudflow. The Osceola Mudflow was when part of Mount Rainier sloughed off about 5,600 years ago and sent a slurry of rock and glacier into the river valleys. Mount Peak tops out at 1800 feet and used to have a Forest Service Fire Lookout at the top. It is long gone and all that is left is the evidence of the foundations.
Unlike Little Mount Si the day before, Mount Peak was practically deserted. There were only two other cars at the trailhead and I passed their owners as they were making their way down the hill. Mount Peak is a 2 mile hike, mostly straight uphill, but it is over quickly! It was cloudy today and there were only peek-a-boo views through the trees along the climb to the top.
All my mountain climbing resulted in 7 more miles for the hike-a-thon. For a total of 16 miles!
A History Lesson
August 16, 2006, Issaquah, WA
The other day, I drove out to Cougar Mountain to hike the Coal Creek Trail. I really enjoy hiking at Cougar Mountain. I hiked this trail last year for hike-a-thon. One of the reasons that I like the Red Town Trailhead so much is the history.
The Cougar Mountain area: Newcastle and Red Town, was once a thriving coal mining operation. Millions of tons of coal from this area was sent by railroad to Seattle and used for energy. It was also shipped from Seattle to San Francisco. The town had a telegraph office and daily mail service, two churches, a hotel, and a general store. The coal mines were so important to this area that when President Rutherford B. Hayes visited the Seattle area in October of 1880, he made speeches at Newcastle.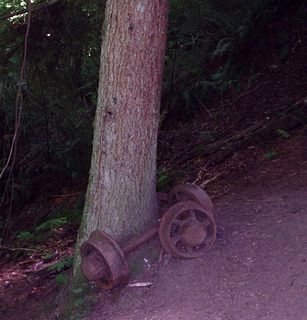 Today there is not much left to see of this ghost town. Because it was a company town, when they were through mining, they packed up and took everything with them. Any homes or buildings that remained were then scavenged during the Great Depression. The Coal Creek Trail follows the rail line that carted the coal to Seattle. There is a concrete foundation from the boiler of the hotel at the beginning of the hike. You can see an old mine shaft and by the waterfall is the site of the old locomotive turntable. Odd little hills and hummocks are the remains of the debris piles that were left from the mining operation.
One of my favorite remnants of the coal mining era is down the Primrose trail. There is a coal car wheel attached to a tree. And what might be the rusted shell of a coal car near the junction of the Primrose Trail and the Coal Creek Trail.
I hiked the Coal Creek and Primrose Trails for 4 miles. This brings my total mileage for hike-a-thon to 20 miles. And I am only $20 away from having $1000 in pledge money!! Thanks so much to everyone who has been supporting me during the hike-a-thon.